Comedian Shin Dongyup has come forward to take responsibility for his juniors' wrongdoings.
SNL Korea has recently been under fire for sexually molesting Infinite and B1A4.  Lee Seyoung has even left the show indefinitely to reflect on her actions. This did not satisfy the public, however.
MAMAMOO was the special host of the December 3rd episode of the show. After they said their goodbyes, the show extended time for the fixed crew to saw a few words regarding the current controversy. Senior comedian and main host Shin Dongyup bowed his head down in a heartfelt apology to the viewers.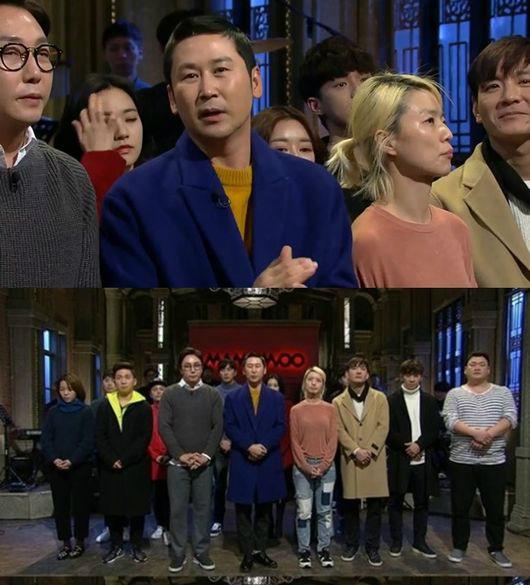 He said, "I apologize on behalf of everyone that felt uncomfortable and disappointed during this week. It was a wrong action and a wrong thought. I want to let you know this is not just the wrongdoing of one individual but of us all." He closed with, "Your hearts may be heavy, and even with this shame, we will be back to meet you next week". He and the entire crew bowed at 90 degrees to relay their sincere hearts.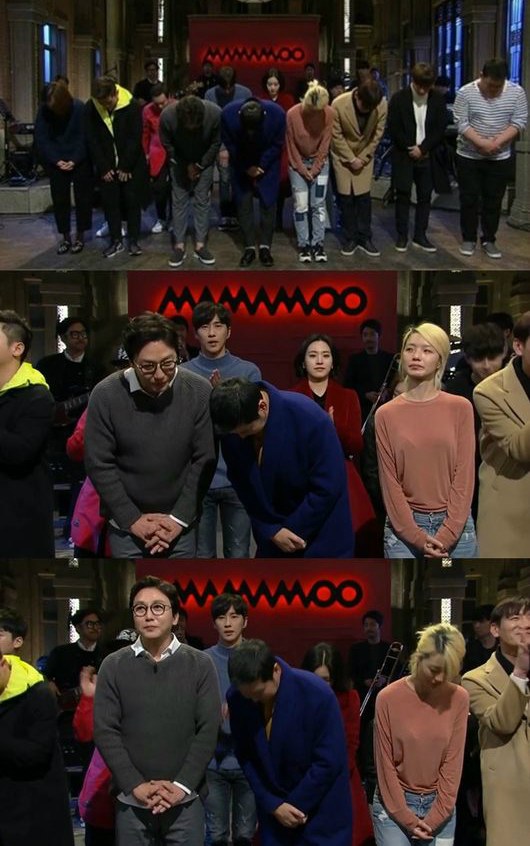 This apology was much more well-taken than the apology letters that had been posted by Lee Seyoung and the production team before. Shin Dongyup's positive image that the Korean public has come to trust and love played a huge role. The fact that he came forward for the sake of his juniors, though the actions were not his fault, added more weight to the apology. The show also made sure not to affect MAMAMOO's image by separating their appearance and the apology completely.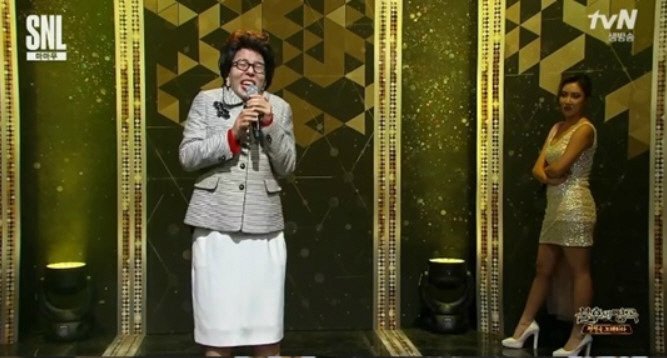 Unfortunately, another controversy occurred during the same episode of the show. Uhm Aingran is a senior actress that was diagnosed with stage 2 breast cancer last year. Comedian Jung Leeran dressed up as the actress and used this as an item for one of the skits. The line "I have nothing to grab on my chest" was used during the show.
Uhm Aingran had revealed in a previous interview that she had "no feeling from under her armpit [after the surgery]" and that she felt "sad and it was not a good feeling after having to lose a part of her body". Viewers believed this was a sensitive subject and the skit was a degrading one for any and all breast cancer patients that had to undergo surgery.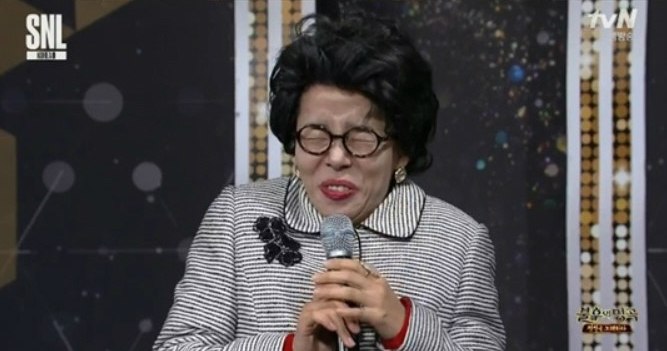 SNL Korea apologized for the scene remarking that Jung Leeran and been dressing as the character "Kim Aingran" since the beginning of Season 8. "She was improvising during the corner and made the remark as something from her personal experience. She was not aware of Uhm Aingran's condition and we apologize for any misunderstandings this may have caused. We will be editing out the section from any future re-runs of the show. We will be more careful in the future."
The show seems to be walking a very fine line these days.
Source: OSEN, Dispatch, Edaily
Share This Post