F.T Island's Lee Hongki has written and deleted two mysterious messages on his Instagram account, possibly aiming towards his agency, FNC Entertainment.
On October 22nd, lead vocalist Lee Hong Ki of rock band, F.T Island, wrote heavy and mysterious messages onto his Instagram account, which were deleted soon after posting.
The first message read, "It's all going to break out soon. Are you guys even doing your job at all, my family members? Each and every one of you are not doing anything right, seriously. Even if I tell this to you, your response will all be the same, that's why I'm saying it here."
It was soon followed by another post saying, "You say that I've changed. These heartbreaking words are what's been changing me. All these years I've been living, now's the time I feel that I've become the most humane… these small words are what's been changing me. The apologies between both of our mistakes… I'll definitely [apologize], but you… you're not saying a word. Today's a heartbreaking day…"
Many fans and netizens who have read these mysterious messages have speculated that the first set of words might possibly be aimed towards his agency, FNC Entertainment or its CEO.  The words, "It's all going to break out soon," and, "my family members," have been construed by netizens to be some sort of foreshadowing of a controversy that might break out between the artist, his group, and the agency.
However, the second set of messages are being deemed as lyrics written by the artist regarding how he's currently feeling towards this mysterious "problem", which is indirectly stated in his first message.
Meanwhile, F.T Island held their "2014 F.T Island Autumn Tour – To the Light" on the 16th and 17th at the Tokyo Dome City Hall in Japan.
What do you think his mysterious messages are about?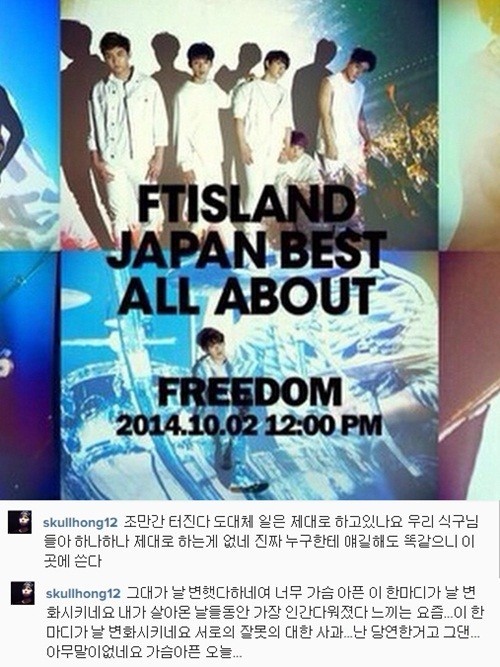 Source: Newsen and Hongki's Instagram
Share This Post